Kier M. Johnson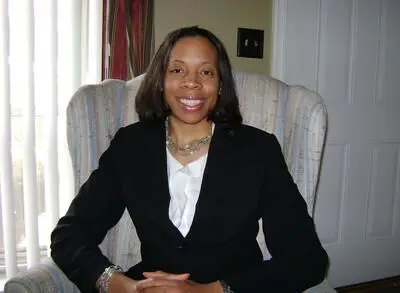 She believes "Knowledge Is Power"! Knowledge of how to find and apply solutions to deal with confusion, anxiety, depression and other challenging life situations that results in the feeling of helplessness or sometimes even hopelessness, is what Kier has found that empowers change. Kier, the listener, co-pilgrim, and Spiritual Pastoral Counselor is here to facilitate an opportunity for you to regain a sense of understanding self in all of your challenges which will open the doors of Love , Power and a Sound Mind !

She passionately works with those who want help: children & adolescence, adults (men and women), families, and couples. Her greatest strength is interpersonal skills resulting in exceptional rapport with people of all cultures, religions, ages and gender. Professionally Kier has been licensed as a psychotherapist for 10+ years.
Kier M. Johnson graduated from Loyola University in Columbia, Maryland with M.S in Pastoral Counseling. She is licensed as a Clinical Professional Counselor (LCPC) from the Maryland State Board of Professional Counselors # LC2447. A safe non-judgment, serene environment is what is presented for all.
---
Batia Stephenson
Throughout the course of our lives, we routinely find ourselves in a space where change is required. These changes can lead to a more direct career path, a healthier lifestyle, or a better relationship with your partner, family, peers or self. Often times, making these changes can be a challenging task for various reasons. In essence, unresolved past occurrences, poor outlooks, a general lack of awareness, and mere exhaustion can all impede progression. Batia Stephenson helps individuals, couples and families identify and prevail over obstacles that are blocking them from actualizing mental, physical and/or spiritual change. Furthermore, she provides guidance, support, and encouragement in developing plans to overcome the entities that are hindering growth.


General interactions and responses from others tend to shape our inner being. In this light, Mrs. Stephenson believes that obtaining the ability to identify and articulate who you are, your strengths, weaknesses, likes, dislikes, etc. helps to facilitate peace in any circumstance. Her chief goal is to assist you in finding that peace.

Mrs. Stephenson has been in this field of study for over 10 years. She obtained a Bachelor's degree in Psychology, and a Master's degree in Community Counseling. She is a Licensed Graduate Professional Counselor, and a National Certified Counselor. Moreover, it is our pleasure to announce that Batia Stephenson is now accepting clients here at SoulRenity.
---
Mia Beauttah - Student Intern
Mia Beauttah is a Professional School Counselor and seasoned educator, mentor and role model who tailors her practice and approach to the needs and for the benefit of Baltimore City Public school students and families.
A proud graduate of Coppin State University with a B.A in English Literature ,Mia holds both a M. Ed in School Counseling from Loyola University and a Master of Arts in Teaching and a Post Secondary Certificate in Administration and Supervision from Johns Hopkins University.
Before becoming a Counselor, Mrs. Beauttah spent her mornings and afternoons (and many an evening) as an English teacher to Middle and High School students for over fifteen years. The transition from educator to counselor was not an easy one, but proved to be a defining moment in her life.
When the pandemic hit last March, Mia had to reach deep to find a way to motivate and stay connected with her most vulnerable population--her students. So she began a daily series of videos -- "Ms. Mia's Magical Mornings"-- complete with a motivational word and a few pearls of wisdom to fuel her listeners through the week. To date, she has completed over 100 morning messages. She soon realized there was a great need and demand for this kind of content and has since begun posting the videos on her social media accounts so that the general public can also access this empowering content.
In her second act, Mia has been able to actualize her authentic purpose which, as she tells her students, is " to find solutions, solve problems and make things better".
Mia is wife to another maker and educator and mother to three creative, thoughtful and free Black children.
In the future Mia plans to pursue a terminal degree in Counselor Education and to continue to support and inspire her community, her students and her people.